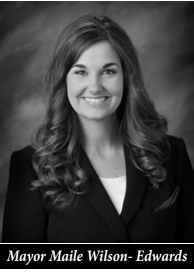 ---
As I'm sure most of you would agree, these past couple of months have been somewhat of a rollercoaster. There were so many new updates and directives we were receiving what seemed like hourly changes and not knowing how long the restrictions would last was very frustrating. Finally, we have moved past the "Urgent" phase and have been downgraded to an "orange" level and "Stabilization" phase of the new health guidelines, which are described later on in this newsletter. I know we all will try to do our very best to follow the directives and guidelines given by our state officials and local health departments. We live in such an amazing community and I know that we will continue to work together to get through this next chapter, and come out as better people and better neighbors.
As we enter this next "Orange Phase", we will finally be able to reopen most of our facilities to the public. Of course, we will still need to stick to the restrictions/guidelines given by the Governor and State Health Departments. That way, everyone will have the opportunity to come and enjoy the many recreational activities that our beautiful city has to offer.
The Library in the Park will be open Monday through Friday, from 10:00 a.m. to 6:00 p.m. and closed Saturday and Sunday for the time being. They will offer curbside pickup, but the computers, meeting rooms and programs are cancelled, also for the time being. They will only be allowing 30 people in the building at a time (including staff), patrons will be asked to limit their library usage to 30 minutes. For more information, visit our website: cedarcity.orgor call (435)586-6661.
Our Aquatic Center will finally be able to reopen to the public, but limited portions of the facility will only be available. Lap swimming will be by reservation only for the time being. They recommend you come "swim ready" (swimming suit and shower) before coming to the pool to limit exposure to each guest. You can make reservations by calling the Aquatic Center at (435)865-9223. Reservations are limited to those 8 years old and older and are limited to 1 reservation per 24-hour time period (next day reservations ONLY). For a complete list of regulations, visit our website at: www.cedarcity.org.
Driving or walking down Main Street, you may have noticed the bright, colorful banners with song lyrics hanging up. This is just another idea that our amazing staff have come up with to show everyone that we are still in this together and that better times are not so far away. It makes me feel like life's not so crazy, even if it's just for a moment. Another super fun thing we have started is our "Trivia Tuesday" on our Facebook page. Every Tuesday, we ask a trivia question about this wonderful community we live in, then randomly choose one winner from all the correct entries, where you can win gift cards to restaurants around the City.
There were a few concerns that were conveyed to me concerning the annual Cedar City Spring Clean-Up. Our crews have reported that some of the residents had "construction" type materials in their debris piles. As some of you may not know, the debris is not transported to the dump, but to a waste pit that is very limited on what it will accept. The April newsletter has information as to what items the city crews will pickup. I would like to remind all of our residents that the City offers this annual clean-up as a service, and I would really hate to see this helpful service taken away because of a few rule-breakers. If you have any questions regarding the items allowed in the spring cleanup, contact Public Works at (435)586-2912
---
**PUBLIC WORKS**
AIRPORT: Work continues on the Runway Reconstruction Project at the Airport. The contractor, Sunroc, is still in the first phase of the project. They have completed the installation of a new box culvert that moves the irrigation water from Coal Creek for use by the farmers out west. The old culvert was within the Airport safety zone, and the new culvert is outside of the safety zone. As they work on the south end of the Airport, the contractor has pulverized and removed the original runway and subgrade. They have also installed new conduit for the lights and signs on the south end of the runway and will do the same when they start on the north end of the runway. The work on the runway is on track to be completed on schedule which is slated for July 19, 2020. The work on the northwest end of the runway along Lund Drive is being done by the City crews as the City's portion of the project. We are flattening out the area in preparation for the airport security fence to be installed straight up through that portion of the property. This is a requirement of the FAA.
WATER: Per Ordinance 37-7.1, watering restrictions are now in place for irrigating with culinary between the hours of 8:00 AM – 6:00 PM. The restriction went into effect April 1, 2020 and will continue through October 31, 2020. This restriction is in force every day of the week. First violations will receive a warning. A second violation will have their water supply shut off and will be required to pay a $25.00 reconnection fee. A third violation will result in the water supply being shut off and will be required to pay a $100.00 penalty plus a $25.00 reconnection fee. All fines and penalties shall be paid in full prior to the restoration of water service. There have been quite a few violations during the past month of April, in fact, more than in April of any other year. Please help conserve our water. For information on water conservation, please visit www.conservewater.utah.gov.
SOLID WASTE: We would like to remind you to please have your trash cans out by 7:00 AM on your designated pickup day. Please have your cans at least 3-feet from vehicles or other cans to allow safe operation of the equipment emptying your cans. Grass, weeds, leaves and other vegetation can become packed into the bottom of your can, and it seems that no amount of shaking will dislodge the material. Please try to keep these materials from being tightly packed so your can may be totally emptied.
The Public Works Department can help you with maintenance of streets, water lines, water meters, water leaks, sewer lines, missed trash pickups, replacement trash cans, streetlights, etc., but we can't help you set up new service, or pay bills. We're happy to forward these calls to the City Utilities Department, but to help save you frustration from being transferred from department to department, please call (435)586- 2951 to ask questions about your utility bills, pay your bill or set up new services with the City.
---
HOW TO TRIM TREES THE SAFE AND PROPER WAY
As springtime arrives, we feel a sense of urgency to get our yards in order so we can enjoy SUMMER and one very important part of our pre-summer routine is pruning or trimming our trees. Not only for the health of the tree, but for the safety of others. As part of being a responsible property owner, it is up to you to properly maintain any trees that may hang over sidewalks or City streets. If any damage(s) occurs from negligence (i.e. failure to remove dead or broken limbs), you may be held liable. So, we've found some safety tips to follow to ensure everyone stays safe:
---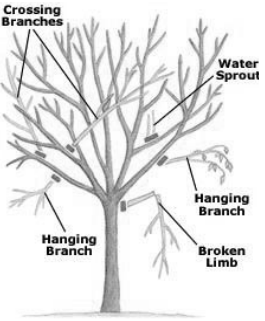 ---
Contact the utility company to discuss de-energizing and grounding/shielding power lines.
• All trimming or removal work within 10 ft. of a power line MUST be done by a trained, experienced trimming professional.
• Wear appropriate clothing (i.e. close-fitting leather gloves, long sleeved clothing, hard hat, eye protection, slip-resistant shoes).
• Do a Pre-Work Assessment - tie off ladders to secure branches, use a fall protection harness, ropes or a mechanical lift.
• Protect co-workers and passersby - mark off the work area around the tree with tape, rope or cones.
• Work with a partner - someone who stays on the ground in case of an emergency.
• Inspect tree limbs for strength and stability before climbing. • Never turn your back on a falling tree and be alert to avoid objects thrown back as it falls.
---
STAY ALERT AT ALL TIMES!!!
• Make sharp, clean cuts at a 45º angle close to bud but far enough above so it won't die back.
• Always prune back to buds that are aimed in the direction you want limbs to grow. This will help your tree grow in a spread out shape.
• Only trim branches that have a weak, V-shaped, narrow angle. Retain branches that have strong, 10 o'clock and 2 o'clock angles.
• To provide clearance for pedestrians, maintain live branches on at least 2/3 of a tree's height. If you remove too many branches near the bottom half, the tree may not be able to develop a strong stem.
---
MAY IS NATIONAL BIKE MONTH!!!
Move Utah and the Department of Transportation (UDOT) would like you to join them in biking more during the month of May while practicing "social distancing" and keeping a 6-ft. distance. There are a great many benefits of riding a bike, such as our overall health, the environment and just a greater quality of life. UDOT will be heightening awareness and safety to people that ride bikes and walk across our great state. This is a great opportunity to get out and enjoy your neighborhood and trails! If you would like to learn more, visit: move.utah.gov for more information.
---
On April 28th, 2020, Governor Gary Herbert announced that the state will move from high risk to moderate risk beginning May 1st, 2020. These new guidelines stem from the Utah Leads Together task force plan that was created this past April. It outlines the path to recovery and provides tools to monitor progress in reopening the economy. The plan conveys 3 different phases to help businesses balance employee health with planning for continuing operations. These phases are: Urgent, Stabilization, and Recovery.
The plan has also implemented a color-coded health guidance system to assist Utah residents and businesses through this process. This system includes 4 levels of risk activity: red, orange, yellow, and green. Each level is meticulously measured to help policymakers make safe, informed decisions to determine if a different color of health guidance is warranted.
• RED - "Stay Home, Stay Safe", essential travel only, specific restrictions (no gatherings,limit for high-risk individuals, limit food service, no personal care services)
• ORANGE - Our current level; leave home infrequently, stay 6 ft. away from others, social interaction groups of 20 or less, limit out-of-state travel, dine-in restaurants open with strict protocols.
• YELLOW - all businesses operating, social interactions in groups of 50 or less, limit unnecessary travel, dine-in services allowed with precaution
• GREEN - reasonable precautions, all business operating, schools open, most travel restrictions lifted, allow larger groups with strict hygiene measures
The newest version of the Utah Leads Together plan introduces new data tools that will help Utah transition from the urgent phase to the stabilization phase moving forward towards reactivating the economy. This reactivation can only occur if Utahns vigilantly follow public health guidance, which includes:
• Follow public health guidelines
• Stay engaged with the economy
• Assist those in need
I 'd also like to say "Thank You" to all of our first responders, out there on the front lines. Without the dedication and commitment of these "essential employees", none of the workings throughout the City would be possible. We appreciate everything you do to keep our City going! To read the complete Phased Guidelines document, visit our website: www.cedarcity.org /1287/Covid-19-Cedar-CityUpdate
---
Help Shape Cedar City's Future
We are living in unprecedented times, but the 2020 Census remains constant in our democracy. Together, we can meet our constitutional duty and count all persons in our beautiful community.
Over 80 million households across America have already responded to their census invitation. Currently, Cedar City has a response rate of 63%. We are making great progress, and are nearly two-thirds of the way to our goal of a complete-count of every person residing in Cedar City. Help us reach the finish line by completing the census form today.
So much has changed in Cedar City since 2010 when the last national census was done. We want to help elevate our community to be the best it can be and offer our citizens first-class services. Help us-help you by being counted! As mayor, I am asking each of you to reach out your families, friends, and neighbors and urge them to respond to the 2020 census if they haven't already done so. My family completed the census and counted everyone in our household including our precious "little addition" born last November.
The census dictates funding that supports Cedar City with free lunch programs, the CHIP program, affordable housing, highways and roads, our fire department, emergency response programs, our hospital and medical clinics, and a myriad of other local and regional programs. I f you have already responded to the 2020 Census, thank you!
If you have not yet responded for your household, I encourage you to respond today. Answer a simple questionnaire about yourself and everyone who was living with you on April 1, 2020.
It has never been easier to respond to the census. You can respond online at www.2020census.gov — without ever having to leave home or meet a census taker. Help us spread the word about the 2020 Census!
---
Source: cedarcity.org